To fund a Church building project in Turnu-Magurele, Romania
Christmas and New year 2011
/12
We are grateful to God for everything He has given us this year, too. He watched over us, blessed us in many ways, allowed us to be part of His work. We trust that He will guide us through the next year and we have no greater wish than to be used by Him in every way he pleases!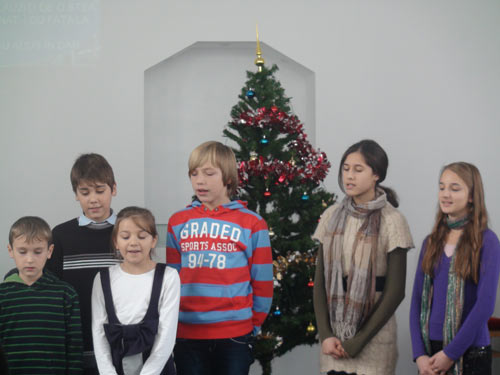 We had a great time the last few days. We went carol singing in Traian, Segarcea, Lunca, Turnu, Calmatui and Salcia. The children joined us (meaning our children), and the other children who come from non Christian families and attend our services had their own program of carols. They went with Florin and Costel and visited their parents and grandparents on Friday and invited their relatives to the special program we had on Christmas morning. Some of them did come, and we hope that they were brought closer to God.
The Sunday before Christmas we also had a choir from Bucharest who gave a concert of carols; they came with their pastor who was a colleague of George's when they were at the Seminar in Bucharest. The special program was held at the church in Turnu and it was an opportunity for us to invite non Christians to church. The pastor from Bucharest had a short message, too, and our prayer is that all who were present would continue to seek the Lord and give their lives to Him.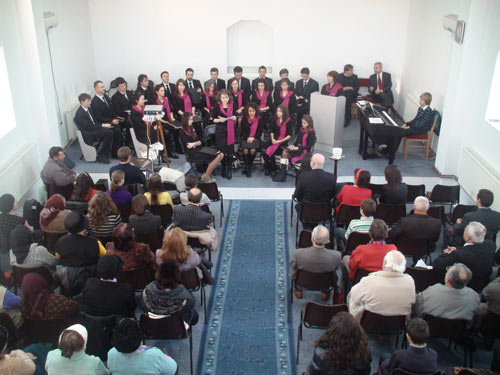 We will spend New Year's Eve in church as usual, everyone is welcome, but probably only the young families and our children will come. We stay until morning, but maybe, this year, it will be a shorter "program" becuase it is Sunday and we will have a program with the whole church later that day.
Heating and music
It became clear towards the end of 2010 that the church was in great need. To avoid asking for more help, they had built the church without a heating system and the cold winter weather prevented them meeting in the building. When we became aware of this we immediately tried to help and were supported extremely generously by the believers here in Ireland. We raised £4,050 in 2 months and the church were quickly able to install heating and use the building again.
Then we found out that they had no piano in the church. The Pastor's son Ovi is an extremely talented pianist and had to travel to practice on a borrowed piano. When I made the need known a local Christian Trust very generously provided £2000 to fund the purchase a second-hand electronic piano.
We praise God for all His provision.
Opening services
The new building was opened to the glory of God on 18th April 2010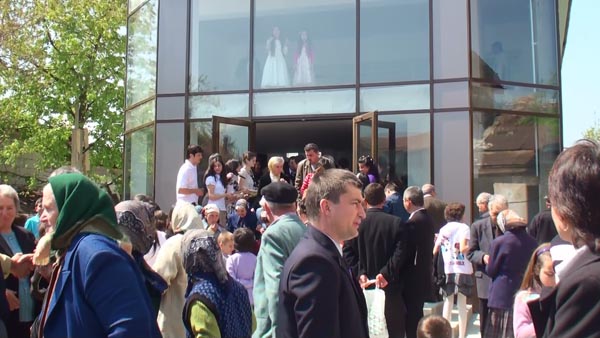 see the progress from the beginning
Despite the upheaval all over Europe due to the volcanic ash, the opening of the church went ahead on Sunday 18th April. The weather was really fine, approximately 150 people attended and God was glorified in Turnu Magurele.
Those who planned to travel from Ireland to complete the installation of Electrics and attend the opening, were left disappointed at home as all flights were cancelled. Despite having only an emergency power supple by cable from next door, the church provided a meal following the service for around 100 people. But God was glorified that day in Romania and His people greatly encouraged.
Pray for them as they complete the construction and use the building to preach Christ in Romania.
Praise God for the men from Northern Ireland who travelled to Romania to give practical help.
God has sent us £35,500
We thank everyone who has contributed so generously to this project and who helped so sacrificially.
Gifts came from a wide variety of sources. Several Trusts contributed; quite a few Baptist churches gave generously. One lady walked the Belfast Marathon course on two separate occasions and raised more than £3,000. Much of the giving was by individuals.
Christian Care Trust provided invaluable assistance with advice and in helping us channel the money to Romania. They organised work teams, transported chairs, carpet tiles, etc. which had been donated. They already have a great ministry supporting Pastors and children's workers in the region.
Christian Fellowship Trust used their charitable status to manage the donations, encouraged me greatly when the way got tough and were exceedingly generous in support.
A number of Churches invited me along to speak about the project and others who were too far away for me to travel still took a great interest and gave most generously.
Men from at least three Belfast churches very generously gave their time and expertise in working on the building: this including them paying their travel costs and taking materials to Romania at their own expense. Young people from Ireland who were in the area helping at a camp gave a few very hot days to help with the foundations. Everyone who helped on site is to be highly commended for all they did.
Pastor George and his two trainee Pastors worked unstintingly on the building, with the assistance of many of the church members and members from neighbouring churches.
See more photos
Progress on 1st January 2010
STOP PRESS: October 09
The really exciting news is that a date has been set for the opening of the new church. It is planned for April 18th 2010. What a thrilling day that will be. God has wonderfully supplied the need. Thank you for all your prayers and practical support. We would like to invite you to join the church on that special weekend. Please contact us if you would like information. See the letter containing details.
STOP PRESS: June 09
The generosity of God's people is amazing. A friend called Margaret once again walked the Belfast Marathon course in May and raised £1,100 for the project. A huge thank you to all who sponsored her and to the couple who gave a gift of £5,000. What a blessing they have been to me and more importantly to the Church in Turnu Magurele. We hope the day will soon come when they are able to complete the building and worship there. Thank you all.
STOP PRESS: April 09
God sent us the £5000 we needed and the team was able to complete the floor and the first fix wiring. They accomplished so much in just a few days. Now the church is beginning to plaster the external walls before the weather becomes too hot. Pray for them and for the funds they still require for the project. Thank you sincerely and a special thanks to those men who, at their own expense, went to help the project forward. see photos of the team at work
March 2009
Dear friend,
Greetings in the Lord's Name. I want to thank you for your great interest in the 2hearts Romania Project to help the believers in Turnu Magurele to have a Church building of their own. We started out in 2007 believing we needed £12,000 and the Lord has supplied £19,000. We were astounded at the generosity of God's people. The little church there has worked so hard, particularly the Pastor and two young men who are studying for the ministry. Their labours have seen the main structure completed and to date this has cost £17,000.
However they are now faced with a huge challenge. The cost to finish the building has escalated. There are several reasons for this. Firstly, the initial plan was to erect a more modest structure but that would probably have been false economy. The church needed to build for the future and I encouraged them. We knew the initial estimate was low and were encouraged when God provided £19,000.
Secondly all the work has been done by volunteers, many of them elderly and many are women. One of the young men who did so much work suffered a very serious back injury and is still recovering. All of this has slowed the project.
Meanwhile prices in Romania have rocketed recently. Since the country joined the EU, materials cost very much more. The plan is now make the building fit to worship in and develop the remainder of the property as they are able. I am hesitant to put another estimate on what is needed until we get a clearer picture of the situation in March but the need is considerable and likely to be at least another £20,000 for this summer.
We are looking at ways to help them and propose sending teams to help practically. A small team of volunteers is travelling out in March to put in the floor. Concrete must be mixed on site and poured manually as the cost of ready-mix is too high. This team will also assess the needs, making plans for future volunteer teams. That team will need around £5,000 for materials.
We hope to have at least one larger team of workers go out for one or two weeks this summer. We are likely to need those with skills such as electricians and carpenters and certainly will need a few plasterers. But we also need those willing to support them and able to "turn their hand to anything." Is there something you could do? We cannot offer travel expenses but flights at the moment are very reasonable (around £150+) Accommodation would be basic but the warmth of fellowship and the warmth of the weather would be guaranteed. If you would consider helping or want more detail, please contact me or Tom Cairns (028 9076 3876) who is co-ordinating the practical aspects of this.
It may be that there are materials that you can donate or sponsor. We need a heating system, light fittings, a kitchen etc. Perhaps you have items in good condition which your church no longer needs. It is not always economical to transport so far but it is still a possibility.
I am also aiming to raise more funds through donations, sponsorship, meetings etc. I do not have the energy I would like to have but I will take some bookings to present the work. If I can't do them myself, there are others who would help. If you would like to hear more about the project, please get in touch.
I thank you again for your interest and support.
In grace,
David McFarland
If the Lord leads you to make a contribution, please send to me at the above address. Cheques should be made out to: Christian Fellowship Trust who very generously support this project. All donations are sent without deduction.
see the progress from the beginning